Oxford Products reveals plans for aggressive growth of cycle business and exports
Oxford Products has outlined a series of big changes to the business's strategy, detailing exports, route to market, recruitment and new product development.
The firm has recruited a new Commercial Head to rapidly accelerate the growth of its cycle division. With a wealth of experience building brands and companies both inside and outside the cycle industry, David Jesson has already signposted a new direction for Oxford's specialist bicycle business.
Distribution strategy
The company will continue to support a network of regional and national wholesalers, who generally supply smaller independent cycle shops with Oxford's range of 3,000+ parts and accessories lines. This route to market has been the cornerstone of Oxford's resurgence in the cycle market since 2006 and will remain an important part of its business.
However, the most striking change of strategy is a move to supply retailers directly and the company is in the process of recruiting an expanded sales team to establish this channel.
David Jesson's vision is clear: "Although Oxford has had a direct relationship with a number of key retailers for several years, the brand building opportunity presented by hundreds more premier independent bike stores around the country cannot be ignored any longer. We need to take control of our brand in the marketplace, protect its reputation through selective distribution and offer high levels of customer support so Oxford becomes the supplier of choice.
"Supplying the cycle industry since the mid-80s, when we pioneered D-locks and even went as far as TV advertising. Having built an impressive range of over 3,000 products, the portfolio now offers serious depth in parts and accessories. It's time for our cycle business to come out from the shade and show the world what it can do."
Oxford is therefore actively seeking retail partners, who can find out more on the company's brand new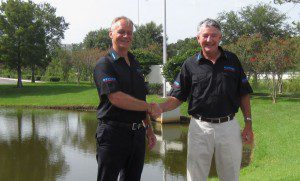 website www.oxfordproducts.com, which features a simple-yet-sophisticated B2B function for trade partners. 
Third party brand distribution
The obvious consequence of supplying retailers direct will be the ability to act as a distributor for strong third party brands. Just as it does in the motorcycle market to great effect for brands such as Oakley and Muc-Off, Oxford will seek to provide a solution for international cycle parts and accessory brands who wish to grow their UK market share.
Jesson welcomes direct approaches from those brands, stating: "We can offer a focus which larger brand-collecting catalogue companies cannot and I look forward to having some exciting conversations with similarly ambitious companies". 
International success
With distribution partners in over 80 countries and its own subsidiary in the US, the company is well organised for global business opportunities.
As a measure of how far its bike offering has come along in recent years, Oxford will soon be in a position to announce a new 15-country trade deal for a significant chunk of its cycle range. This will naturally drive greater volumes and facilitate further investment in the quality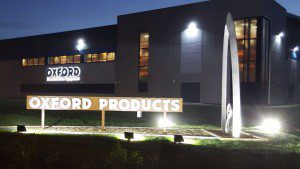 and scale of Oxford's range.
New Product Development 
One of Oxford's USPs has been the ability to manage its entire product range in-house from cradle to grave. The company has invested significantly in 3D design and printing, with three 3D product engineers supported by an ever-growing team of (currently) 5 graphic designers providing the 2D elements. With a bank of product managers coordinating dozens of projects, this capability enables the business to generate a continuous pipeline of exclusive product designs to feed its growth and build the values of the brand.
Jesson explains. "We have our own dedicated cycle engineer – a competitive bike junkie –backed up by a team of 5 graphic designers, so we're taking full advantage of the in-house resource and skills to accelerate NPD.

"We are now building products around consumer targeting and a consumer need focused on three main consumer types: leisure, commuter and enthusiast." 
Recent results from NPD include the first premium alarm shackle lock to hit the market, the aptly named Sold secure approved "Alarm-D".

Oxford's design input goes beyond the styling and function of this movement-sensing device and right into the nuts and bolts of a properly designed carry bracket, which is easy to fit to any shape or of size of frame or downtube.

Jesson concludes: "Our cycle division is in a very fortunate position; we have a very dynamic and fast-paced team alongside – our bigger brother in the motorcycle trade. This give us the resource, infrastructure and financial muscle of a £26 million business. So we have the ability to grow the bike division quickly".