Road cycling grabs greater revenue share in UCI annual accounts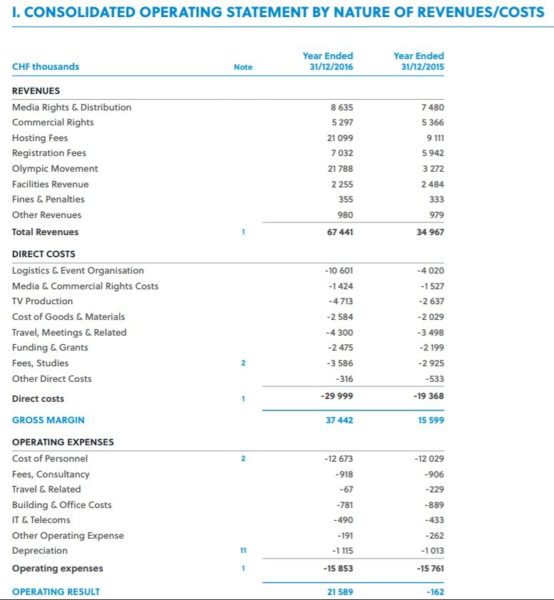 Road Cycling and the 2016 Olympics proved significant money spinners for the UCI, according to the latest annual report and accounts.
A bumper year for revenues thanks to the Olympics, revenues for the year ended 31/12/2016 totaled 67, 441,000 Swiss Francs (€59,303,955), representing a near doubling on 2015's 34,967,000 Francs (€30,748,081). Money generated by the Olympics filters through to member organisations like the UCI from the International Olympic Committee's coffers. Cycling's Governing Body this time around took payment in one lump sum, as opposed to trickled over four years, much thanks to a mentioned change in Swiss accounting practice.
Hosting fee revenue also more than doubled year-on-year, jumping from 9,111,000 CHF in 2015 up to 21,099,000 CHF. Minor gains were also made from Media and Rights distribution, registration fees and facilities revenues.
With his presidency set to be challenged in September's elections, UCI President Brian Cookson said in his foreword to the documents he considered the UCI to have made "significant progress". The election process is indeed mentioned in Cookson's warm up, with reference to the new restriction to three terms of presidency.
He said: "In what has been another landmark year for cycling, this Annual Report highlights the significant progress that we have made during my third year as President of the Union Cycliste Internationale (UCI). It underlines how far we have come in promoting and developing cycling across the world, and shows the important work we do in partnership with the cycling family, the wider sporting community and public policy influencers.
"2016 was, of course, an Olympic and Paralympic year and the Games in Rio were an incredible success, showcasing our sport to new audiences and demonstrating the truly global appeal of cycling."
Outside of the Olympics Cookson speaks warmly of progress in women's cycling, having created a new Under-23 category at the UCI Cyclo-cross world championships, as well as driving progress on equality in the sport. On that note, a cost within is a CHF 139,000 study to assess distribution of prize money.
The sport of course faces new and old challenges. Anti Doping's budget rose from 1.074 million CHF to 1.237 million, a process funded by the teams and events themselves via a levy.
Inrng draws attention to a curiosity in the accounts relating to Doha's bid for the worlds in 2015. The road cycling site writes that Qatari backers paid for the privilege, but that the 12 million Franc boost on the prior event turned out to be revenue not profit with the UCI sub-contracting duties out to third parties to cope with the lack of organisational resources locally.
In his summary Cookson also reminds that the UCI is now looking at its contribution to grass roots cycling and development of cycling around the world for means other than sport.
"We are also becoming more active as a voice to promote cycling in communities. During the year, we awarded our UCI Bike City label to cities and regions in Norway and the Netherlands to spotlight some of the great work that is happening on the ground. This is something that you will see more of in the future as we take a higher profile position in promoting cycling not just as a sport, but as a means of transport and a healthy daily activity," says the UCI president.
As a non-profit organisation, the UCI's 21 million Franc surplus will carry over for following years.
The UCI employs 115 people.