Royal Dutch Gazelle's busy summer: Launching an award-winning e-bike… and tackling a factory blaze
With an award-winning e-Bike now rolling into bike shops, growth in its assisted cycle sales and the small matter of a fire in its Netherlands factory, Gazelle is having a busy summer…
This May, Royal Dutch Gazelle's Netherlands factory was hit by a fire. Despite clouds of smoke billowing over the Dieren locale, the production facility was back in action soon after the blaze was under control. A Gazelle spokesperson tells Cycling Industry News: "We had a roof top fire, but thanks to very effective action by our employees and the local fire brigade we managed to limit the blaze to the roof. The fire started at the solar panels on the roof of the warehouse section of the Gazelle Production and Innovation Centre."
The unforeseen visit from Gazelle's local fire service has not held the firm back on its expansion plans for 2019. First half of 2019 has seen e-Bike sales up significantly on H1 2018, the firm reveals, and as a major player in the electric assist market, its view on the trends are worth dipping into: "One of the things we are seeing is growing sales of more expensive e-Bikes," the spokesperson tells us. "People tend to use e-Bikes more and more for commuting as well."
Gazelle's award winning Ultimate C8+ HMB e-Bike comes to market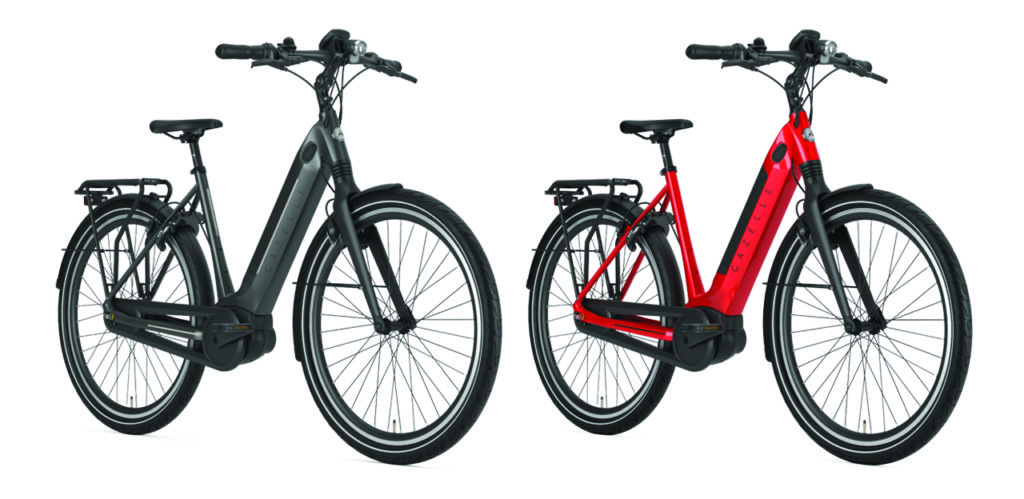 And speaking of the developing electric bike market, Gazelle's latest award-winner – the Ultimate C8+ HMB – is now available for dealers.
Scoring an iF Design Award earlier this year, the Ultimate C8+ HMB was designed by the firm from scratch and discreetly integrates the battery and motor into the aluminium frame. Cabling is internally routed where possible.
Besides the clean design, Gazelle has focused on stability, comfort and performance. The Bosch Active Line Plus motor provides 50Nm, while the lithium-ion battery offers high capacity and an extensive range. Hydraulic brakes, eight gears (Shimano Nexus 8) and a central handlebar-mounted display feature too. The stiff aluminium frame, suspension forks and 28-inch tyres combine for ride stability with comfort detailing including leather hand grips.
Like all Gazelle bikes, practicalities of everyday riding have been designed in; The Ultimate C8+ HMB includes a rear stand and high quality AXA Defender ART certified lock. The headlamp and rear light use LED technology and can be switched on and off via the display. Available in low and high-step models, the Ultimate C8+ HMB comes in frame sizes 46-65cm. Depending on the size chosen, colour options include champion red and desert titanium matt grey.
Dealer reaction
The new flagship e-Bike was presented at the Dutch Open Air Museum to Gazelle dealers from the Netherlands and various export markets. It was the first time the 127-year-old company had launched a bicycle in the middle of the cycling season, showing it to dealers and delivering directly from stock, Gazelle tells CIN.
Distributors and dealers could test all the iterations of the Ultimate on a course at the launch, with a positive reaction and orders placed on the spot, says the brand. York-based Cycle Heaven's Andy Shrimpton was among the selected guests in the Netherlands: "It was a great event, especially since I was able to meet so many people who work on Gazelle products every day. That really brings this great product to life.
"Because the Ultimate was presented separately from the rest of the new model year, this bike received the attention it deserves. It is a true flagship bike, especially the low step version, that's got stunning looks in the red and white version."
Gazelle is reported to be including another Experience Centre at the newly revealed Dutch Bicycle Centre, in Nijmegen. CI.N visited one of Gazelle's Experience Centres and its factory in Dieren, in the Netherlands earlier this year.