Brompton's profits slide heavily amid investment, but bounceback coming says UK manufacturer
Following continued investment in manufacturing and new offices, Brompton Bicycles' profits have declined 40% to £1.3 million in the year to March 31st, 2016.
Strategic investments in 2015 to 2016 were many fold and included opening a New York Office with a view to driving U.S. growth, as well as an office in Hong Kong, which the firm foresees becoming a regional hub to support the Asia region. Asia now represents a third of global sales for the iconic folder.
Leading markets, including the UK and USA both posted declines in sales, yet the firm has achieved top line growth. Sales rose 3.4% to £28.4 million, a 2% increase and a 4% recovery against 2015.
Stephen Loftus spoke to CyclingIndustry.news on the pros and cons, pointing to a generally hostile 2015 for the bicycle business and industry overstock making life difficult for sell through.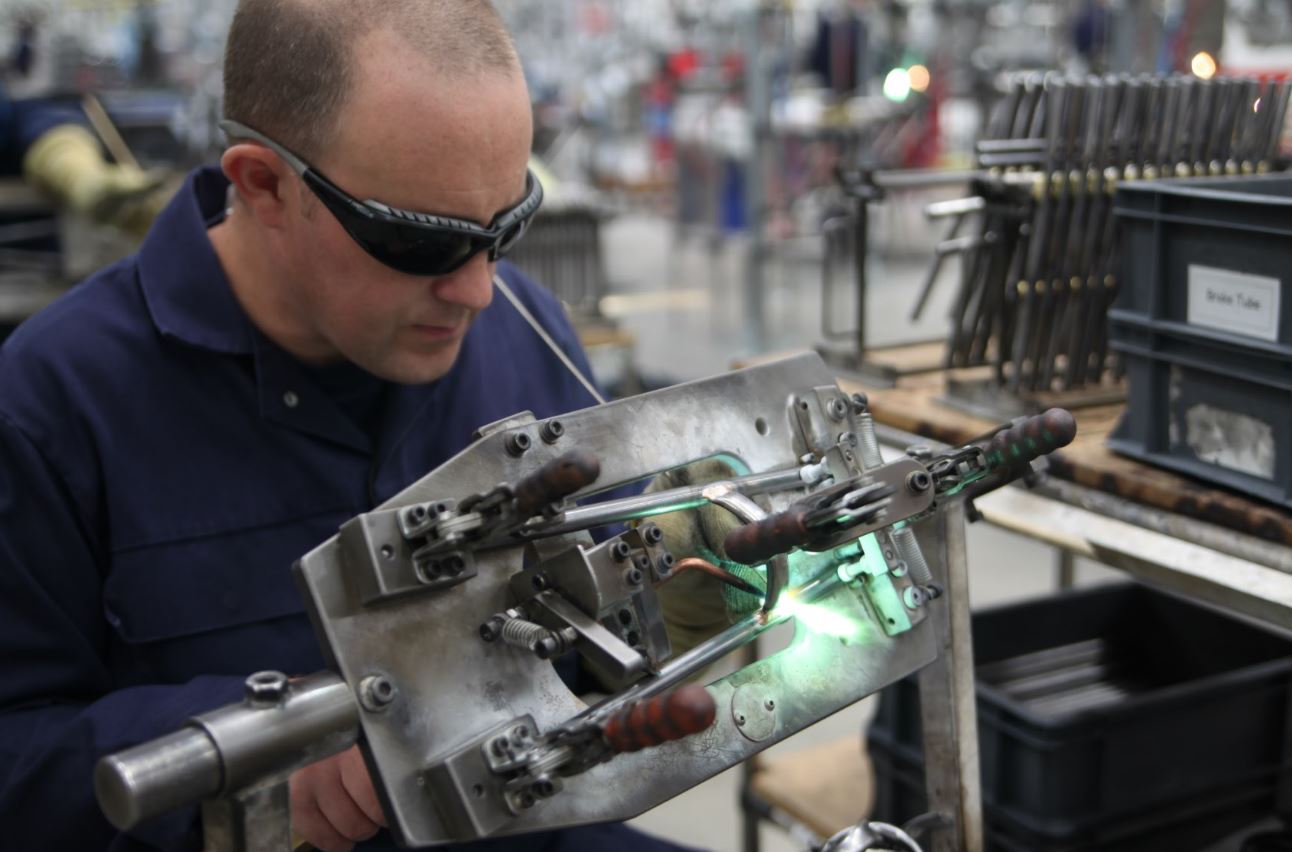 "The market has been tough globally for at least 24 months and in particular the headwinds the industry faced were not improved by a tough summer in 2015, as well as trading slow downs in the Asia Pacific. We were, however, trading ahead of the general industry curve and most of our customers achieved moderate growth.
"Momentum has built from January 2016 all the way up to early summer and we enjoyed 10% growth in the first 7 months of 2016 and business has been favourable again in recent months. Overstock levels in the market are reducing and bikes like our Black Edition have been a huge hit with younger audiences selling through very quickly."
The opening of the 84,000 square foot Greenford manufacturing plant set the business back £2 million, with an extra £1 million in rent each year, something which has contributed strongly to profit for the year.
Overall Brompton's costs rose by £1.8 million, with a lengthy R&D process for the firm's much-anticipated electric bike further adding around £2 million to the bill. This e-folder, which is touted as "unlike any other" out there at present, has been developed with input from Formula One's Williams.
Further to the bricks and mortar, Brompton is also investing heavily in clicks with a new global website and digital presence.
Shareholders were paid a £485,656 dividend during the period, including a sum to founder Andrew Ritchie who stepped away from the business during 2016.
Will Butler-Adams, Brompton CEO commented: "At a time where the UK cycle market is struggling we have seen growth in the UK and further afield. Our profits are down but we have invested heavily in the future of the business with a new factory, new offices and Junction stores. This investment although risky in the short term will ensure we are in a good position to hit our ambitious growth targets. There is exciting times ahead for Brompton!"
Brompton now boasts 12 junction stores stretching from Tokyo to Barcelona and exports to 44 countries around the globe.
With its increased production capacity, the firm has once again begun to grow its dealerbase, making a concerted effort to get out on the road and visit existing partners.
"We've had a big drive on sales and marketing," concludes Loftus. "Brompton has nearing 200 dealers now in the UK and we're still recruiting to fill outer London gaps. Our marketing team has excelled handing out 20 Bromptons to Olympians who blogged about them during competition, as well as airing an Inside the Factory piece on BBC 2 at prime time. During that hour long show we saw an extra 7,000 people log on to our site."
Going into 2017 Brompton has told CyclingIndustry.News that it has recently seen very strong growth in UK business for the current financial year.