European bicycle market report: Key trends, production source movement and call for reshoring
The Confederation of the European Bicycle Industry (CONEBI) has published a 82-page insight into the fortunes of a number of European markets this week.
Packed with market data drawn on from 28 member states, the insight offers everything from production and sales data, to employment within the business and more. To save you time, we've dug in, compared and contrasted with prior reports and can bring you these headlines:
Sales
20,751,000 bicycles and electric bikes are now sold annually across Europe, with 13,000,000 of these produced from outside EU member states. This figure rose from 20,340,000 in 2014 and is the most produced since 2007.
Bike sales in the Netherlands have dipped south of 1 million units, though electric bike sales have risen year on year, perhaps a contributory factor to the average sale price of 914 Euros.
Though not one of the largest producers, Great Britain is second largest in terms of market sales at 17%, only behind Germany at 21%. France (14%), Italy (8%) and Poland (6%) round out the top five.
Bicycle and e-bike sales figures for 2015 are as follows; Germany – 4,350,000, GB – 3,514,000, France 2,996,000, Italy – 1,654, Poland – 1,190,000.
Britain's parts and accessories production is worth €35 million. By comparison, leader Italy's tallies to €474 million. 
Jobs
The European bicycle market is responsible for at least 70,000 jobs, making it the largest green industry employer in Europe. 15,725 of these are within bicycle production and 15,238 in P&A.
Portugal's Bike Valley expansion is creating a wealth of jobs, making it the cycling industry's largest production employer in Europe.
Sale Price
The Netherlands retains the crown of having the highest sale price in Europe at €914, on average. Surprisingly, Germany's value is less than half at €397, outside of the top five, which are further made up of Denmark at €650, Spain at €481, Austria at €450 and Luxembourg also at €450. Slovenia, Malta, Latvia and Croatia have the lowest sale values at €110.
UK bike sales dipped by around 100,000 units over 2014 levels, while the average sales price remains around €300/£257.
Electric Bikes 
With the market focused on the evolution of the electric bike it's encouraging to see the steep sales trajectory continue. European sales hit 1,357,000, up 19.13% on 2014.
Germany, which reportedly shifts one e-bike in eight sales (and growing), remains the largest market by unit sales at 40% of the volume sold, or 535,000 units in 2015. Germany is home to a number of electric bike specialists.
The Netherlands is Europe's second largest market for electric bikes, making up 20% of sales at 276,000. Amsterdam-based Accell Group reported recently that electric bikes made up 43% of its turnover.
From there on in, the top ten markets in order are; Belgium 10%, France 8%, Austria 6%, Italy 4%, Denmark 4%, Britain 3%, Sweden 2% and Spain 2%.
Interestingly, the report suggests that sales in Britain have fallen by 10,000 unit over 2014.
The largest growth by volume occurred with market leading Germany, which went from 480,000 sales to 535,000.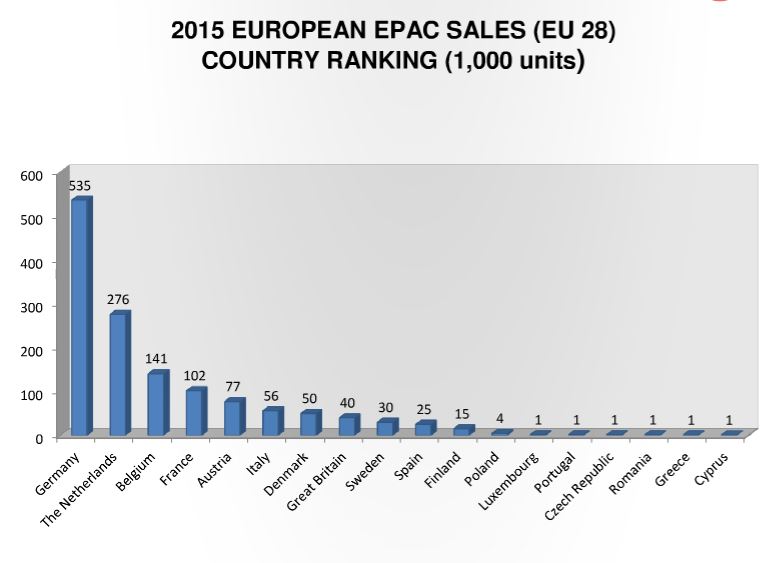 Production
Bicycle production within the EU accounts for 13,149,000 bikes, a rise of 10.14% over 2014 levels.
 The bulk of bicycle and e-bike production stems from Italy (2,344,000 or 18%) and Germany (2,186,000 or 17%), though the expansion of Portugal's bike valley has seen the territory gain ground on 2014 levels. The country now accounts for 14% of EU production at 1,904,000 bikes.
Parts and Accessories
When it comes to parts and accessories, Romania (18%) has leapfrogged Germany (also 18%) into second place, with Italy responsible for the highest share at 28%. Across all member states 1,687 million Euro of goods were created in 2015, excluding VAT.
Other
European citizens, on average, own more bicycles than other means of transport.
CONEBI President René Takens stresses early on that the industry should work toward reshoring mid-to-high-end production. He said: "For our customers it is important that the production of mainly medium to high-end bicycles is realised near the European home market. Deliveries can then be more flexible as the produced series can be smaller and lead times can be shorter. Our bicycle industry is spread over the whole EU territory, with 600 small and medium-sizes bicycle companies. Thanks to the regionism of our 'green' industry, co2 emissions caused by the transport of the bicycles are reduced to almost zero.
"The EU bicycle industry is seen as the best and most innovative in the world. By continuously striving to improve the quality of our products by R&D and by making further investments, this image can only be strengthened."
Representing the bicycle industry and member interests at European level, CONEBI frequently meets with policy makers and authorities in order to pursue common objectives. Like the UK's Bicycle Association, the body is tasked with standardisation and legislation relating to cycling, but also describes driving cycling culture in Europe as a priority.
Should you wish to review the document in its entirety, head here.