Market Study: Where are independent bike shops winning and losing business?
Stemming from the findings of CyclingIndustry.News' own 2018 Independent Retail Channel Study, the data here shows where the UK's independent bicycle retailers' have made gains and losses in trade. For access to the full report contact us here. Our 2018 study was delivered in association with the Cycle Show, for which trade may now register for free attendance here.
According to the Association of Cycle Traders, whose Ride It Away programme tallied £100 million in sales in the 12 months to November 2017, retail finance is not yet meeting its full potential. 16.56% of our pool reported increased business year-on-year, contrasting against 21.77% who believe they are handling less via this means. If you feel that your store is missing a trick on this front, check in with CI.N's tutorials on training staff to maximise this opportunity.
Having racked up criticism in recent months among independents our study show's that the big loser is cycle to work trade; astonishingly 63.27% said this business had dried up for them year-on-year. Opinion sought by CI.N attributes this to rises in commission by the market's main players, as well as marketing promotions that have seemingly skirted the independent trade altogether.
However, new entrants are causing a stir; notably Free2Cycle, whose model sees the consumer pay off their bike by committing to riding it, as well as the Green Commute Initiative that commands a lower than normal commission and with a higher ceiling.
Which of the following are you generate less business via?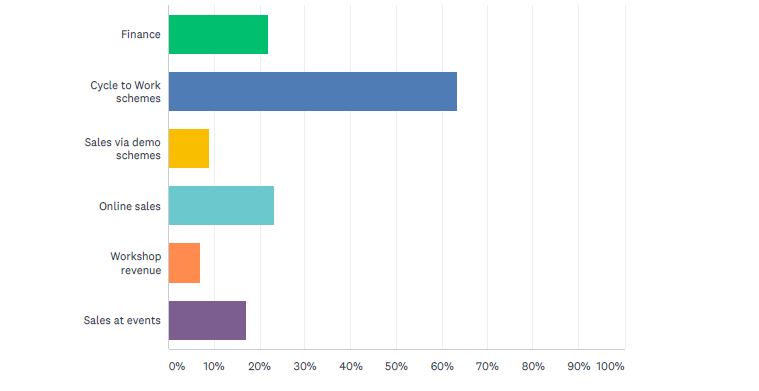 The workshop is an unsurprising standout, with 66.88% of a pool of 157 pinpointing the work of their mechanics as an area for increased investment, turnover and profitability.
With an increasingly strong set of ePos and eCommerce tools available to the bike store just over a quarter of our pool are handling an increased turnover in online sales, though profitability here again is carefully weighed against investments made in marketing to reach new customers. It may be for this reason that just shy of a quarter are reporting less online trade year-on-year.
Which of the following are you generate more business via?