Royal Mail modernisation plan will shun cargo bike deliveries, despite strong business case
Cargo bikes will not form part of the Royal Mail's £2 billion modernisation plan, a spokesperson has today confirmed to CyclingIndustry.News.
Having sent a chunk of the iconic Pashley Pronto (otherwise known as the Mailstar) fleet to Africa for recycling over the past 6 years, the logistics giant told us that the modernisation would remain a wholly motorised affair – with the UK's biggest fleet of over 49,000 vehicles making deliveries.
The stance is at odds with Royal Mail owned GLS Italy, which within this recent ECF video on job creation via cycling, detailed how the load-carrying bicycles had revolutionised its deliveries in Milan. GLS Italy spokesperson Simone Vicentini said within the video that the business was now looking to expand the cargo delivery scheme Rome and Bologna.
"We have no plans to roll out GLS Italy's use of cargo bikes," said Harshna Brahmbhatt of Royal Mail's press office. "GLS provide a European ground-based parcels delivery network and Royal Mail deliver both letters and parcels in the UK. The strategies and therefore operations for the companies are different and in fact within GLS, individual country strategies will differ vastly too – so it really isn't an area that we are focused on.
"This is one of the biggest transformations undertaken in UK industry and enables us to respond to changes within the postal market," added Brahmbhatt.
"As we deliver fewer letters and more parcels than we did in the past, we removed bicycles from many of our operations across the UK. These have been replaced with vans and trolleys, and enable us to take the weight off the shoulders of our staff and therefore deliver mail more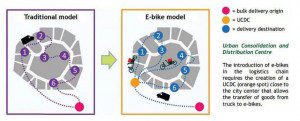 securely and safely."
But is the logistics firm missing a trick? Compelling evidence gathered from seven European urban areas by Pro-e-bike.org creates a business case in both costing and efficiency for city-based delivery hubs.
For logisitics companies that want to analyse their own costs and possible savings, there's now even a tool for doing so.
This study took in 40 businesses with significant logistics challenges, including GLS, in different industrial sectors and of different sizes across 20 cities. At the end of the trial the results were almost unanimously in favour of cargo delivery. In three of the seven member states 100% continued with e-bike delivery. At the start of the trials, 79 e-bikes of various types were used by the firms taking part. That number is now 267 and growing.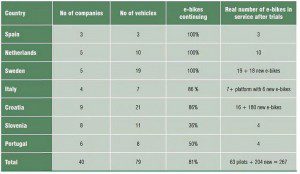 Within the same research, competitor DHL has acted on the benefits it realised. After a pilot with 33 bikes in 14 Dutch cities, which showed cost savings of over €13,000 per bike and a reduction in motor vehicle mileage, DHL Express began to roll out its cycle delivery system, which by 2014 was working in 9 European countries.
DHL's European fleet now includes over 26,000 bikes, of which 9,000 are electric bikes or trikes. The logistics giant has also introduced a quadracycle, dubbed the Cubicycle and built by Flevobike in Dronten, a manufacturer of recumbent bicycles. The build, pictured below, sports a storage capacity measuring 80 x 120 x 100 cm (the size of a the size of a standard shipping pallet, thus easily integrated) and can carry 125 kg. A courier, DHL says, can easily cycle 50km a day on its Quadracycle.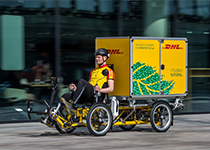 As shown to be an efficient method in pro-e-bike's aforementioned study, DHL's vans deliver the container to a location near the city center, from where the bike starts its route. This makes the process even more efficient.
France's La Post cargo fleet counts 20,000 e-bikes, expanding to 30,000 by 2017.
When asked about carbon reduction efforts outside of pedal powered delivery, CyclingIndustry.News was pointed to a recent press release that details Royal Mail's extensive fleet having reduced fuel consumption by five percent.
Paul Gatti, Royal Mail Fleet Director, said: "Joining this voluntary scheme shows that Royal Mail acknowledges the carbon impact of its fleet and that we are very committed to managing it. It is also crucial that we continue to explore new ways to improve our fuel efficiency and reduce our impact on the environment given that we cover every single part of the UK.
"Our new relationship with the LCRS (Logistics Carbon Reduction Scheme) gives us an opportunity to share what we are doing and, equally, learn from the best practice of other members."
Related – London cargo bike retailer: "I often clean 2mm of black dust from the parapet of the shop. The residents opposite never open their windows, not just because of the pollution, but the anti-social noise that motor traffic brings."