Build it, they will come and it'll benefit your city economically, shows SFU study
Research by a health sciences expert at the Simon Fraser University and published in the International Journal of Behavioral Nutrition and Physical Activity, has shown a direct correlation between cycling infrastructure and a rise in those switching to commuting to work by bike.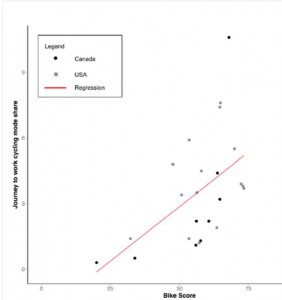 Having developed a 'bike score' system, similar to the widely used 'walk score' tool used in North America, Meghan Winters and her colleagues found that for every ten-unit increase in bike score, those commuting by bicycle went up by half a percent. The scoring system analyses bike lane topography, connectivity and availability on a scale of 1 to 100.
Though half a percent doesn't sound like it'd represent a lot of people, Winters says it's a significant increase given that cycling only averages at 1.9% of trips on the continent.
As such, Winters says that city planners should know that investing in cycling infrastructure does actually have a positive effect on boosting cycling's modal share. An example highlighted in the study shows how the City of Vancouver, which has laid down segregated lanes across much of the city, has achieved a score of 78. The goal in doing so was to see half of all trips made by bike, walking or public transport by 2040. The city announced that it had achieved that goal in 2014, with total motor vehicle distance declining 21% since 2007.
The Canadian territory is far from alone in achieving a change in that behaviour either and with congestion costing economies worldwide billions, city planners have become a lot more interested in change.
The study's results state:
The development of Bike Score created the first opportunity to conduct between and within city comparisons between cycling mode share and a widely available metric for measuring the cycling environment. The association between Bike Score and cycling mode share was positive and significant (β = 1.5 % for a 10-unit change in Bike Score, 95 % CI 0.4 to 2.6 %) with Bike Score explaining 27 % of the variation in cycling mode share between cities.
Eighteen cities had significant associations between mode share and Bike Score with estimates varying from modest (0.2 % per 10 unit change in Bike Score) to dramatic (3.5 %) in city-specific models. We conclude that Bike Score shows utility for national or multicity studies, but closer inspection may be needed prior to its application for city-specific analysis and planning in certain locations.
The study looked at 24 North American cities, with modal share data pulled from national surveys. Across all of these, the city-wide mean Bike Scores and mode shares ranged from 20 to 73 and 0.3 to 12.3 %, respectively. The research group suggest that city planners are now able to use bike score analysis to analyse where best to add new infrastructure.
The cities and their statistics are found below. Inside Europe? The ECF can help you access EU funding for infrastructure projects.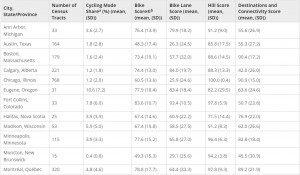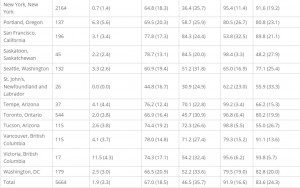 Should the industry be doing more to push for the installation in their domestic territories?