Link every Oxfordshire town with cycling infrastructure for seven-fold return, urges campaign group
The Oxfordshire Cycling Network has launched a "vision for the future" in which Oxfordshire's towns are linked by a proposed £120 million cycle network.
Able to quickly cover its costs in return on investment, the OCN – a network of 29 local cycling organisations – calculates that, if approved, the network would be worth £112 million a year in health and journey time benefits alone.
Proposed for development is a 366-mile network designed specifically to reduce the county's reliance on motor vehicles for easily cycled journeys.
"Our vision is that people of all abilities can choose to cycle anywhere, feeling safe and comfortable," said Robin Tucker, Chair of OCN. The only proven way to achieve this is to have high quality routes linking places that people want to go.
"Instead of stop-starting in traffic jams, fretting about where to park, I can bike the five miles from home to Abingdon more quickly and more predictably. Plus, I will have done my exercise for the day."
Calling for Dutch or German standard cycle path, the advocates first and foremost want to achieve safe conditions for all ages and abilities to make journeys by bike. Therefore, the lanes would feature smooth tarmac, at least 3 metres wide and separated from busy roads by a green verge. In town, cycle tracks would be separated from both pedestrians and motor vehicles, and would continue across junctions.
"All ages, all abilities. These are the four As of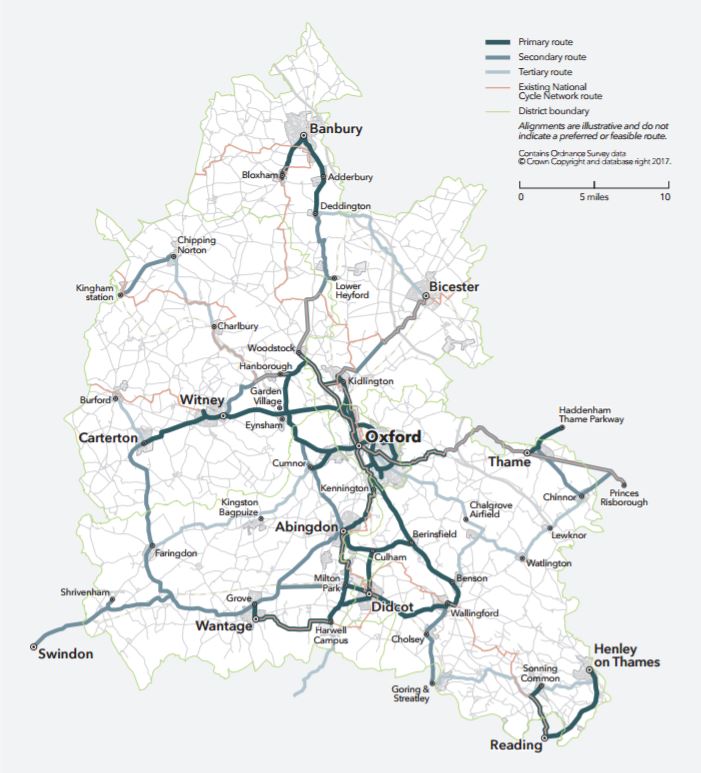 best-practice standards for cycling. The Netherlands, Germany, Denmark – and even Cambridge – have shown that this works. Now let's bring similar 4A benefits to Oxfordshire," added Simon Hunt, Chair of Cyclox.
The benefits will extend to local businesses, said Kevin Wilkinson, Chair of workplace cycling group HarBUG. He rightly points out "cyclists spend more in local shops and cycling links attract businesses, employees and tourists to a location."
The network might take 15 or 20 years to build and OCN's first estimate of costs is £120 million. That is based on the Parliamentary Cycling Group's recommendation of £10 per year per person.
"It's three pence a day each, which doesn't sound much, but it would transform transport and health in Oxfordshire," concludes Tucker. "Our financial model shows a 7-fold return on investment over 20 years, which is 2 or 3 times better than most road investments."