Editor's comment: Why I won't be picking a side with trade shows
When something reminds you of the state of politics, you know things have gotten bad.
The parallels drawn are simple; lot's of fighting at the top and the little guy, who you're supposed to be working for, gets caught in the crossfire.
Now this could simply be that I find myself in a bit of a sandwich. As bicycle trade media it's my duty to report as evenly as possible on anything designed for the benefit of the frontline's cash registers, among the greater goal of pushing more people onto bikes. Often what happens instead, particularly when it comes to the trade show climate discussed here, is a muddying of the waters, where hearsay is mixed with rumour, mixed with half truths or skewed stats and finally peppered with opinions. Opinions that are prone to becoming biased, depending on who you listen to.
And it's a purported fracas between trade shows and the undertone of "whose side are you on" that brings me here.
Earlier this week the decision was taken not to publish an opinion piece discussing the UK's January trade shows. There was nothing overly controversial in the article per se, but on this occasion the decision balanced solely on how constructive the content and comment supplied within would be seen.
In CyclingIndustry.News' short time in the market the over-riding objective has always been to publish only content that the independent bike dealer and wider trade can take something from. Consumer titles review product. B2B's task is to sift through the noise and find return on investment for your time. Regretfully, the current winter trade exhibition situation in the UK (and globally – we'll get to that in a bit) can't be said to be benefiting with any great efficiency the very people it is designed to serve. It perhaps hasn't done for some time.
Something stood out for me in a immensely well received piece written for CyclingIndustry.News by colleague of mine John Styles – the Toxification of the Bicycle Industry Supply Chain – was a closing statement mic drop of sorts:
"Go back to the shop-floor and spend a week in a shop. Not an hour chatting to the owner. A week, a full working week."
Bike retailers, hands up if you'd pay to see such a thing from your suppliers, or in this case those organising the events you attend.
If one theme stands out from the industry's current show climate it's that many seem to be quickly losing touch of the reality of their customer. Time out of the shop is not taken lightly for numerous reasons. At a time when bicycle retailers are increasingly less reliant on hard goods to turn a margin, the promise of a free lunch and a peak at a new colourway doesn't hold much sway.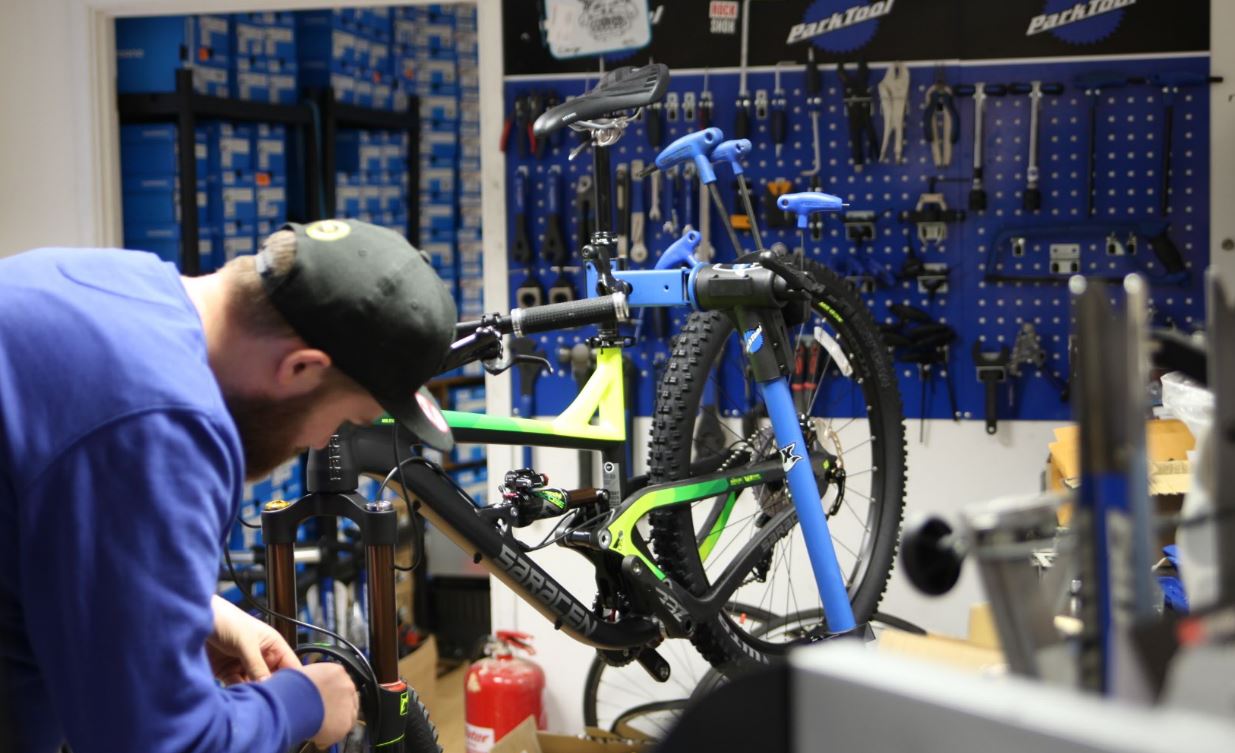 The sustained break up of some of the world's leading exhibitions, whereby industry giants are increasingly turning to the house show, has it's pros and cons. My recent visit to Cube, a label that has opted out of Eurobike, paid dividends in access to the information needed. The dealers in attendance tended to agree, one on one time with your key suppliers is invaluable for ironing out concerns, education and deciding which stock to carry in the period ahead. But there's a catch. Just how many times can a shop owner/manager justify taking time out of the store during key selling periods? Even during winter downtime, when new product debuts aren't the order of the day, justifying days out of the business on the promise of show exclusive offers must be a considered decision.
Of course the reversal of the rate of exhibition dropout seen in recent times isn't going to happen in the short term. While Eurobike's organisers claimed to have filled the space vacated by by the likes of ZEG, Derby Cycle, Pinarello, Trek, Felt and Specialized, to name a few, it is clear that the momentum of the global leader has stalled. Interbike too, despite hosting its largest ever show in 2015, did this year post a sharp dip on many fronts.
Each organiser has opted not to put all their eggs in one basket. The former is adapting from 2018, reverting back to trade only and shuffling forward to July. It has taken a more active role in Taichung's Bike Week. The latter has the Fall Cyclofest and the IBD Summit to focus on, both events which have grown out of necessity.
What's prompted these shows to make changes? Listening to their audience.
In Eurobike's case, when the likes of Shimano and FSA hint that relevance is beginning to slip a change is needed. And from 2018 it will be delivered.
In a roundabout way this leads us back to the UK and how the audience of our trade shows not only feels at present, but has done since it became evident that at no point soon would two become one.
"I may not go to either as a protest," said one dealer I spoke to on their feelings. "The reality is the time of year isn't preferable, nor is paying a number of staff for a day out on which we simply can't justify the returns. And now we have to do this two weeks running. The current situation loses sight of the purpose for which it is intended and ignored what bike retailers are calling for in numbers. It has to be resolved or I won't be going back again."
Bike retailers have echoed this sentiment on UK trade-only forum BikeTradeBuzz. The over-riding theme is that the UK's suppliers are long overdue a banging together of heads and that this will be delivered in protest by staying put come January.
"I was hoping that after last year the 2 shows would be brought under the 1 roof in the better venue (IMHO) at Silverstone so we could have 1 Super UK Trade Show," starts a thread on the exhibitions. "For me this is the worst possible outcome and makes no sense whatsoever."
The likely outcome, then, can only be drastically reduced numbers on the doors. Anyone who's ever requested a price list for exhibiting at a trade show will tell you that the high expense must be justified and that expense, by all accounts, has generally increased in recent years. If you're one to listen to the rumour mill, in some cases prices have shot up by an eye-watering margin, making 2017 potentially a very expensive exercise indeed.
The model has therefore become unsustainable. Blind faith in a tired format "because that's what we've always done" is only sustainable for so long. Nobody is going to pay more to benefit less. For the second time this month, we now find ourselves asking; are we witnessing the end of a trade show(s)?
What side of the fence you're on isn't the question you should be asking if both are destined to fail. Try, why do we find ourselves in this position in the first place and how can we turn things around?
Given the general mood that the UK situation could be salvageable, but for a few dug in heels, one thing is certain. The question we'd prefer to be asking is simple; Does the UK bicycle industry still want a large scale winter trade exhibition and, if so, can we agree that our goals our shared and sit down to agree on a future direction for the common good?